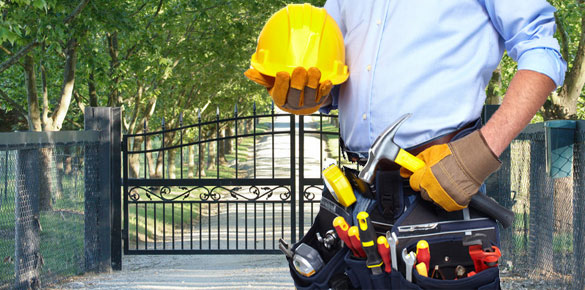 Driveway Gates are available in many custom designs and add curb appeal to your home in Los Angeles, CA. The Driveway Gates that we custom build at Perfect Gates Company are attractive and designed to not only add curb appeal to your home, they also provide privacy, security, and ease of access.
A machine-driven driveway gate opens quietly and comes to a soft close. Because you don't need force to open and close it, the assembly is less likely to be damaged over time. And appearance is important, too: we use only the finest galvanized metals that are designed not to rust, and wood doors that resist warping and cracking.
As a locally owned and operated family business, we strive everyday to create relationships with our customers that last a lifetime.
Driveway Sliding Gates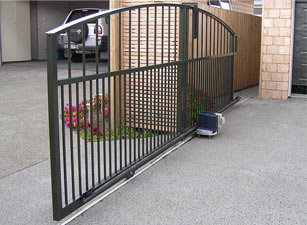 For privacy and enhanced security, Perfect Gates installs a complete selection of wood and steel gates with slide or swing openers. These gates are perfect for estates, houses or farms. The openers run on very low voltage and can even be solar-powered in areas where electricity is not available.
We are Certified Driveway Gate Operator Installer's and can repair or install your gate in a timely and professional manner. Emergency service is available for those times of desperate need. Our specialty consists of residential, commercial and industrial sites as well as gated communities.
Cantilever Gate
Cantilever gates are suspended on rollers and are great for snowy or rocky conditions that might affect a gate that rolls on the ground.
V-Track Gate
V-Track gates can be used in situations where the gate needs to be close to the ground for security issues. They are also used in situations where there is limited space for the gate to slide back into.
Whether you need a gate to accompany your new wood or iron Electrical Gate, for additional security, or need a special gate for your garden or driveway, Perfect Gates will find the right solution for your home.We design and build our structures to fulfill your individual needs, working closely with you to ensure your style and size requirements are carefully addressed.

Driveway Swing Gates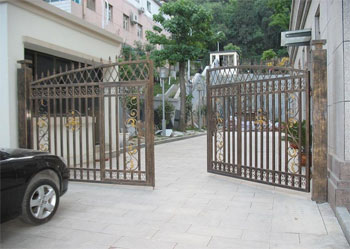 Perfect Gate Driveway Swing Gate is now offering an affordable swinging gate line that works to meet your security and automation needs.
Incorporating classic swing gate artistry and the strength you seek, the Swing Driveway Gate Collection is made with extremely durable 061-T6 wrought aluminum alloy and powder coated for a smooth black finish. The 061-T6 wrought aluminum alloy offers a high yield strength and withstands harsh elements for long lasting beauty.
Our Swing Driveway Gate Collection is the only non-custom gate built for and ready for automation. The Swing gates come with a horizontal frame support specifically designed to stand up to the rigors of automation and makes installing a gate opener simple and clean.

Commercial Gates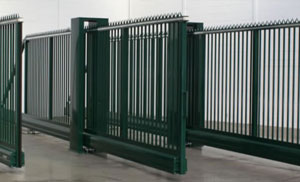 Commercial gates are one of the most important security features for stores throughout the Southern California. In these uncertain economic times, it is imperative that business owners do everything possible protect their property and merchandise with the highest quality commercial rolling gates in Los Angeles.
Perfect Gates is the premier supplier of commercial gates in the Southern California area. No matter where you are in Los Angeles, Ventura, Orange or Riverside County, our expert technicians are there to help you choose the right commercial gates to suit your needs. No matter what size your space, we have the security gates that will protect your business and merchandise against theft and vandalism.